Details emerge of a controversial 'roadmap' for reforms that would leave him in power despite demands for his overthrow
The US is pushing the
Syrian
opposition to maintain dialogue with
Bashar al-Assad
's regime as details emerge of
a controversial "roadmap" for reforms
that would leave him in power for now despite demands for his overthrow during the country's bloody three-month uprising.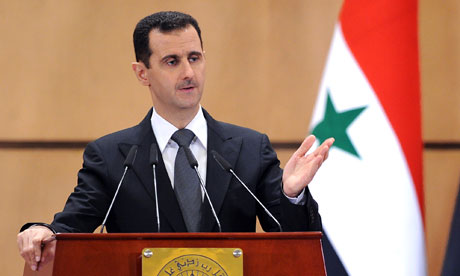 Syria's president Bashar al-Assad has mentioned proposed changes in public,
but some fear he is trying to buy time and brush up his image. Photograph: AP
Syrian opposition sources say US state department officials have been discreetly encouraging discussion of the unpublished draft document, which circulated at an
unprecedented opposition conference held on Monday in Damascus
. But Washington denies backing it.
Assad would oversee what the roadmap calls "a secure and peaceful transition to civil democracy". It calls for tighter control over the security forces, the disbanding of "shabiha" gangs accused of atrocities, the legal right to peaceful demonstrations, extensive media freedoms, and the appointment of a transitional assembly.
The carefully phrased 3,000-word document demands a "clear and frank apology" and accountability for organisations and individuals who "failed to accommodate legitimate protests", and compensation for the families of victims. The opposition says 1,400 people have been killed since mid-March. The government says 500 members of the security forces have died.