(Huffington Post) - KANDAHAR, Afghanistan -- Afghan security forces on Sunday killed a few insurgents who had barricaded themselves inside a hotel in the southern city of Kandahar, ending a two-day battle that left more than two dozen militants dead, officials said.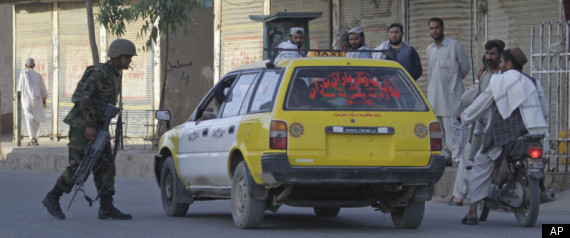 The battle raised new questions about the effectiveness of a yearlong campaign to secure Afghanistan's south and Kandahar in particular. The city was the birthplace of the Taliban and is the economic hub of southern Afghanistan.
The Taliban attack on Kandahar was the most ambitious since the insurgents declared the start of a spring offensive last month against NATO.
Gen. David Petraeus, the top U.S. commander in Afghanistan, said NATO forces had expected the insurgents to try to carry out spectacular attacks during the spring and summer fighting season. He said Afghan forces managed to deal with the attacks in Kandahar "calmly and capably."
The fighting began around noon Saturday when a Taliban force launched a major assault on government buildings across the city.
The hotel is next to the intelligence agency headquarters and a police station and was used to stage Saturday's daylong attacks against the two government buildings. Afghan forces secured the government buildings, bringing fighting to a temporary halt Saturday night, though sporadic gunshots and explosions could be heard around the city.
The Taliban plans for a major spring offensive and announced on April 30 that it had begun.
Interior Ministry spokesman Zemeri Bashary said firefights resumed Sunday when security forces began to clear the hotel.
In the two days of fighting, 25 insurgents and two members of the Afghan security forces were dead. Another 40 people were wounded. Of the dead attackers, nine had detonated their suicide vests. Security forces captured another four, Bashary added.