(CNN) - Editor's note: We'll be providing you with the latest information, the most interesting and compelling details and angles on Osama bin Laden's death as we get them here on this live blog. For the big picture that tells the story in full,click here. But stay with us for news as it continues to break.
[Updated 9:30 p.m. ET] Addressing a group of congressional leaders at the White House this evening, President Barack Obama said that when Americans learned of Osama bin Laden's death, "I think we experienced the same sense of unity that prevailed on 9/11."
"We were reminded again that there is a pride in what this nation stands for and what we can achieve that runs far deeper than party, far deeper than politics," Obama said. "I want to again recognize the heroes who carried out this incredibly dangerous mission as well as all the military and counterterrorism professionals who made the mission possible."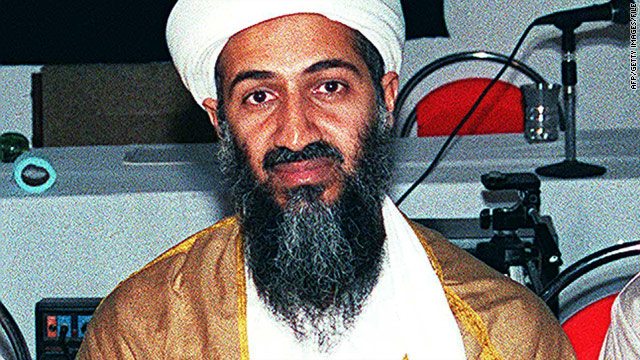 Osama bin Laden
THE OPERATION
:
Attack details
|
Timeline
|
In plain sight
|
The compound


THE REACTION:
U.S.
|
World
|
Middle East
|
Healing wounds
|
Your thoughts

THE MAN:
Bin Laden, over the years
|
Face of terror
|
Ideology lives on
|
His life


THE SECURITY ISSUES
: What's next for al Qaeda
|
A deathblow to al Qaeda?

THE POLITICS:
A victory for Obama, U.S.
|
Re-election impact?

THE ANNOUNCEMENT
: Obama: Justice done
|
Watch

|
Transcript
THE PAKISTANIS
:
What did Pakistan know?
|
Pakistan's role?

[Updated 9:10 p.m. ET] A senior U.S. official says that the woman who has killed during the raid on the compound where Osama bin Laden was found was not a wife of bin Laden, and that she may not have been used as a human shield as previously reported. A wife was there, according to an official, but not killed.
Earlier Monday, John Brennan, assistant to the president for homeland security and counterterrorism, told reporters that it was his understanding that the woman who was killed was one of bin Laden's wives. Other officials had said that the woman who died was used as a human shield in an attempt to protect bin Laden.
[Updated 8:48 p.m. ET]
Time magazine contributor Omar Waraich says he spoke to Sohaib Athar, an Abbottabad resident and software engineer who
unknowingly reported, on Twitter, details of Monday morning's raid
that killed Osama bin Laden. Athar had written on Twitter that, among other things, he was hearing a helicopter hovering above Abbottabad.
"When he found out (the commotion was because of) Osama bin Laden, he said to me it was quite ironic," Waraich told CNN's John King. "He said he had left his native city of Lahore, the second largest city in Pakistan, for the quiet of Abbottabad so he could escape suicide bombings and the sounds of explosions rattling his home and frightening himself and his wife. And he said the ultimate irony was that (in) this quiet place he'd moved to, he had found Osama bin Laden as a neighbor."