(Reuters) - The top U.S. military officer said air strikes had hobbled Libyan forces but the conflict was moving into "stalemate" as Muammar Gaddafi's troops pressed on with their punishing siege of rebel Misrata.
Rebels welcomed U.S. plans to deploy unmanned aircraft, typically operated remotely from the United States. But it emerged that bad weather had forced the first two drones sent to Libya to turn back.
"It's certainly moving toward a stalemate," said Admiral Mike Mullen, chairman of the U.S. military's joint chiefs of staff, addressing U.S. troops during a visit to Baghdad.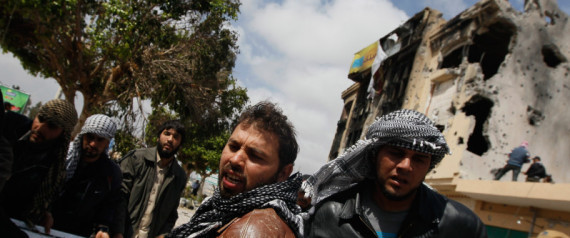 "At the same time we've attrited somewhere between 30 and 40 percent of his main ground forces, his ground force capabilities. Those will continue to go away over time."
In Misrata, the only rebel-held major city in western Libya, rebels wrested control of a large downtown office building which had been a base for Gaddafi's snipers and other troops, after a furious two-week-long battle.
Shattered masonry, wrecked tanks and the incinerated corpse of a government soldier lay near the former insurance offices on Friday amid buildings pockmarked by gunfire.
"They shot anything that moved," one fighter said of the Gaddafi men driven out.
Rebels said they had captured several other central buildings from government forces and the state of the battle did not appear to match claims by government officials in Tripoli to control 80 percent of Misrata.
Rebel fighters are fighting a block-by-block war of attrition with an enemy sometimes only yards (meters) away.
"Gaddafi's fighters taunt us. If they are in a nearby building they yell at us at night to scare us. They call us rats," one rebel said.