OTTAWA (Reuters) - The head of NATO's military operations in Libya Monday accused forces loyal to leader Muammar Gaddafi of hiding in hospitals and firing on civilians from the roofs of mosques in the rebel-held city of Misrata.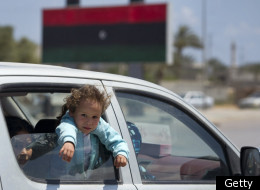 Libyan children look out a car window as the
vehicle drives past Libya's former flag at a traffic circle,
in Misrata, 120 kms (75 miles) east of Tripoli, on
April 18, 2011. (ODD ANDERSEN/AFP/Getty Images)
Misrata, Libya's third largest city, has been under siege for seven weeks by Gaddafi's military, during which hundreds of civilians are thought to have been killed, and evacuees say conditions are becoming increasingly desperate.
"The regime's forces have used snipers on top of mosques, they are hiding beside hospitals, they have got their armored vehicles in schools and, in fact, they have even taken their uniforms off," Lieutenant-General Charles Bouchard told the Canadian Broadcasting Corp.
Bouchard, a Canadian, called the tactics used by Gaddafi's forces as "underhanded" and "immoral" and said he was concerned about the humanitarian situation in Misrata.
"There is some suffering, but I can assure you of one thing: the suffering would have been much much greater if we (NATO) were not there ... the deaths would be in the thousands."