(CNN) -- It all happened so fast.
In January, less than a month after
fruit vendor Mohammed Bouazizi
lit himself on fire, nationwide protests in Tunisia forced out President Zine El-Abidine Ben Ali.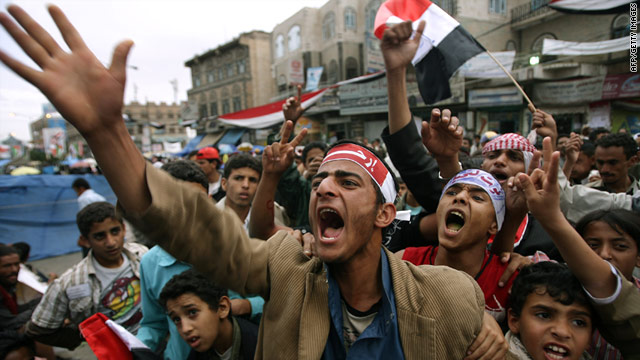 Protesters in Yemen have demanded President Ali Abdullah Saleh's
removal. Here, demonstrators march in Sanaa this month.
One month later, Egypt experienced its own revolution, and unrest spread
across the region
to other countries such as Bahrain, Jordan, Syria and Yemen.
But in the last couple of months, it seems, the rate of change has slowed. A stalemate has developed in Libya's civil war. Government leaders aren't budging in Bahrain or Syria, and Yemen's future is still up in the air.
So what happens next? Is more change on the way, or have we already seen the peak of what some call the "Arab Spring"?
CNN.com reached out to five experts for opinion and analysis. More specifically, we posed the following question: How do you see the "Arab Spring" playing out as we move toward the summer months?
Taylor: Expect regime change in Libya, Yemen
Julie Taylor, a Middle East specialist who lived in Egypt for four years, is a political scientist at the RAND Corp.
It is likely that we will see at least two more regime transitions in the next six months.
One is Yemen, where the ruling party
has agreed
to have President (Ali Abdullah) Saleh step down. It is not clear whether Saleh is on board with the deal -- if the opposition rejects the portion of the agreement that would protect Saleh and his family from prosecution, the president's departure might be delayed. But it will still be imminent. Saleh enjoys little support both inside and outside of Yemen, and all parties are growing frustrated with his attempts to drag out the inevitable.
Another is Libya, where most think any resolution that keeps (Moammar) Gadhafi in power and divides the country is untenable.
Syria is harder to call. The protesters are unrelenting, but -- unlike in Yemen -- troop leaders in Syria's armed forces are highly committed to President (Bashar) al-Assad. Their fates are tied to the maintenance of the regime because they are from the same minority Alawite sect. Al-Assad also has the ability to initiate a mass crackdown, and the regime's primary patron, Iran, would likely support such a move.